First time Biorhythms Pro program will start in a Demo mode. This is almost a fully functional copy of the program except it will not accept display biorhythms for dates after January 2010. It enables you to evaluate the advantages of the program, including click the Interpret button to see interpretations for different days depending on the cycles.

In order to register program, click Help, Register Program, and the following screen will appear: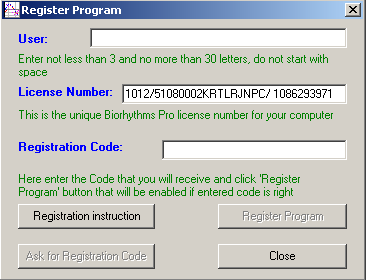 ---
Enter User name (not less than 3 and no more than 30 characters; do not start with space). "Ask for Registration Code" button will become enabled after you enter first three letters.
Then click "Ask for Registration Code" button and email will be sent to the distributor of this program. Shortly you will receive information how payment can be done.
After payment you will receive Registration Code, which you have to enter into "Registration Code" field (with Copy/Paste), press Register Program button and all features of the Biorhythms Pro program will be enabled.
However, if you decide to install the program to a different computer, you will need another registration code.
Button of the Program "Registration instruction" will allow you to go directly to Internet sites of the distributors of the Biorhythms Pro program .
Also you can go to these sites from the "Links" page. Program license allows user to obtain up to 3 registration codes and to install Biorhythms Pro in up to three machines at one time. If a legal user of the Biorhythms Pro program obtains a new computer or needs to re-install the program, he will be provided with an additional registration code for free.
Price of the Biorhythms Pro program is 59 USD (45 Euro), it may vary slightly from country to country.
---

Here is Program User's Guide
in pdf /Acrobat Reader/ format, requires Acrobat Reader to be installed in your PC))
---